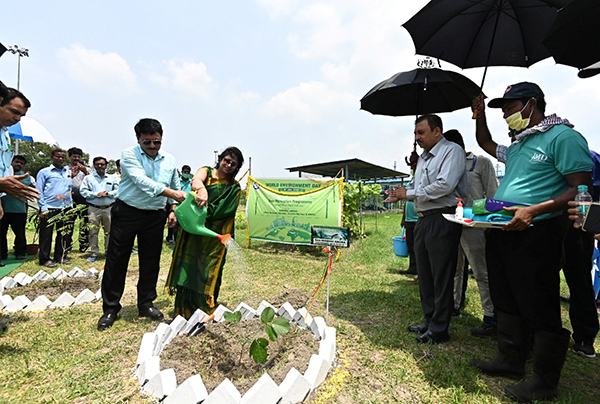 National: The Eastern Railway, Metro Railway and South Eastern Railway (SER) observed World Environment Day on Sunday (June 5, 2022). In an endeavour to reiterate the commitment towards green earth, the Metro Railway ran an 'Environment Express' in the morning to spread the message of environmental awareness. Shri Arun Arora, the General Manager, Metro Railway and Eastern Railway and other senior officers of both Metro and Eastern Railway travelled in this train from Phoolbagan to Central Park depot.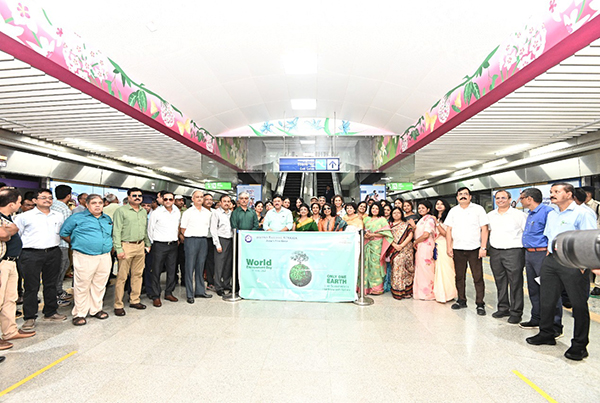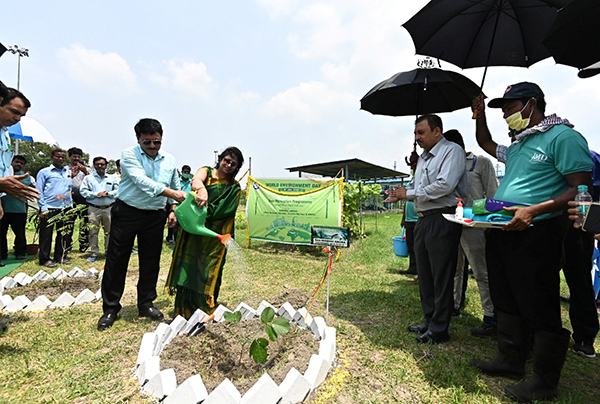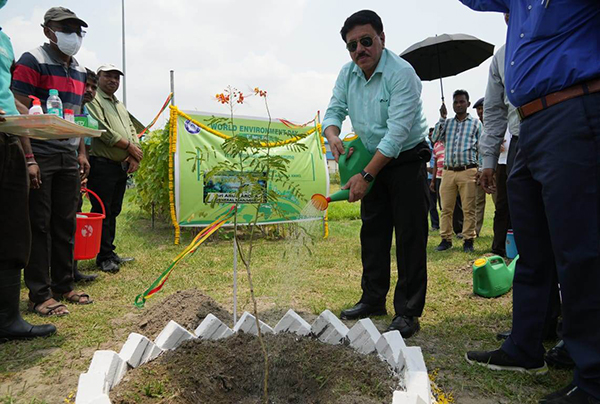 Shri Arora planted a sapling at the Central Park depot courtyard to mark the occasion. Smt Madhu Arora, President MRWWO also planted a sapling there. Total 77 saplings were planted at the Central Park depot on Sunday. Saplings were also planted at Noapara carshed.
The South Eastern Railway (SER) celebrated World Environment Day at its Headquarters, Garden Reach and four Divisions viz. Kharagpur, Adra, Chakradharpur and Ranchi on Sunday (June 5, 2022). Ms. Archana Joshi, General Manager, SER planted saplings as a part of observance of World Environment Day at SER Headquarters, Garden Reach. Sri Atulya Sinha, Additional General Manager, Sri P.K Mandal, Principal Chief Mechanical Engineer, other senior officers and staff were also present and took part in the tree plantation programme.
The theme of this year's World Environment Day is "Only o­ne Earth".
General Manager, Ms. Archana Joshi also released a Booklet o­n eco friendly initiatives taken by South Eastern Railway in recent times. A Nukkad Natak was staged by members of S E Railway Bharat Scouts & Guides to create awareness for conservation of natural resources and prevention of environmental pollution.
Recently, SER has achieved the milestone of 100% Electrification of its total Route Kilometres. This is a noteworthy contribution of SER towards conserving the environment. In its endeavour to reduce pollution and preserve natural resources, SER has taken various initiatives viz. continuous afforestation, development of eco-smart stations, installation of solar panels at the roof top of station buildings and administrative offices, installation of bio-toilets in train coaches, provision of rain water harvesting plants in the Divisions etc. As a step towards water and solid waste management, Automatic Coach Washing Plants, Effluent Treatment-cum-Water Recycling Plants and Solid Waste Management Plants have been installed at different locations over SER jurisdiction. Moreover, as a step towards Plastic Waste Management, 44 Plastic Bottle Crushing Machines have been installed at different stations of SER.